By CHRISTOPHER LEONARD
The Associated Press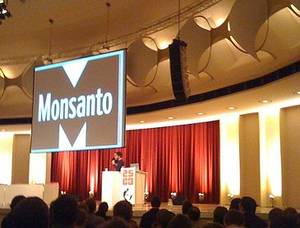 ST. LOUIS — Confidential contracts detailing Monsanto Co.'s business practices reveal how the world's biggest seed developer is squeezing competitors, controlling smaller seed companies and protecting its dominance over the multibillion-dollar market for genetically altered crops, an Associated Press investigation has found.
With Monsanto's patented genes being inserted into roughly 95 percent of all soybeans and 80 percent of all corn grown in the U.S., the company also is using its wide reach to control the ability of new biotech firms to get wide distribution for their products, according to a review of several Monsanto licensing agreements and dozens of interviews with seed industry participants, agriculture and legal experts.
Declining competition in the seed business could lead to price hikes that ripple out to every family's dinner table. That's because the corn flakes you had for breakfast, soda you drank at lunch and beef stew you ate for dinner likely were produced from crops grown with Monsanto's patented genes.
Monsanto's methods are spelled out in a series of confidential commercial licensing agreements obtained by the AP. The contracts, as long as 30 pages, include basic terms for the selling of engineered crops resistant to Monsanto's Roundup herbicide, along with shorter supplementary agreements that address new Monsanto traits or other contract amendments.
The company has used the agreements to spread its technology — giving some 200 smaller companies the right to insert Monsanto's genes in their separate strains of corn and soybean plants. But, the AP found, access to Monsanto's genes comes at a cost, and with plenty of strings attached.
For example, one contract provision bans independent companies from breeding plants that contain both Monsanto's genes and the genes of any of its competitors, unless Monsanto gives prior written permission — giving Monsanto the ability to effectively lock out competitors from inserting their patented traits into the vast share of U.S. crops that already contain Monsanto's genes.
Monsanto's business strategies and licensing agreements are being investigated by the U.S. Department of Justice and at least two state attorneys general, who are trying to determine if the practices violate U.S. antitrust laws. The practices also are at the heart of civil antitrust suits filed against Monsanto by its competitors, including a 2004 suit filed by Syngenta AG that was settled with an agreement and ongoing litigation filed this summer by DuPont in response to a Monsanto lawsuit.
The suburban St. Louis-based agricultural giant said it's done nothing wrong.
"We do not believe there is any merit to allegations about our licensing agreement or the terms within," said Monsanto spokesman Lee Quarles. He said he couldn't comment on many specific provisions of the agreements because they are confidential and the subject of ongoing litigation.
click here to read entire story.